I think about the boys daily.  It almost comes a reflexive thought during quiet times and weirdly when I ponder an embarassment or unrelated regret.  It is always there underlying all moments taking the shine of the good moments and intensifying the bad ones.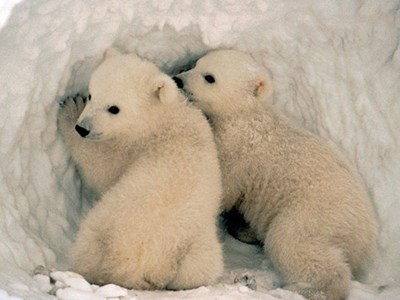 We called our boys bearcubs and during the pregnancy I would send my wife little pictures of bears to cheer her up.  After a while bears settled into polar bears and stuck.  It was a nice way of following on from when my wife's father gave her a polar bear toy when she moved to London.  We had little polar bears ready for them to take home from hospital as a welcome home gift.
In the end they didn't get to take them home and we didn't get to take our boys home.  Well, not in a way that we had ever imagined.
It all started in the same way as so many others.  A mumbled apology and an ultrasound screen.  After being fobbed off at the weeked we had been concerned that we hadn't felt any movements so went in for a scan on the Monday to check.  The results at the time were inconclusive and no-one wanted to commit to the being the one that had to break the news so they wanted us to stay overnight for an appointment in the morning when the consultant was back in.  We couldn't face the prospect of being in hospital and we left.  We went home that night with the possibility that at least one of our twins had died. There was the desperate hope that there was a survivor or it was a terrible mistake and the kicks would start up again.
During the pregnancy if we hadn't felt the boys kick for a while I would jiggle my wife's belly and say "wake up babies" to get them moving,  That night I just held the bump feeling nothing whilst trying to reassure my wife that without confirmation there may be a chance that one of the boys had survived.
The next day was weird.  We started with the scan that ended any hope.  The fateful words starting so many stories with no chance of a happy ending: "I'm sorry, there's no heart beat".  I remember glancing at the ultrasound and seeing our unmoving boys and no heartbeat, no movement.  The consultant nudged them to confirm and we saw their tiny bodies shift position without movement or reaction.
The one thought running through my head was "I can't fix this".  The realisation that there was nothing, nothing that I could do to change this, to make it better crippled me.  I could only hold onto my wife as the doctors started to set out the next steps of induction in the room I somehow knew we would end up in.  After our consultations we would often wait in a little room for the midwife to discuss practicalities and such.  Whilst bloods were taken and noted I would be left in that room studying the posters and literature stuck to the noticeboards (it was either that or a year old issue of Closer).  The room with its collection of support group posters and sensitively placed box of tissues always felt like a place to receive bad news.
My wife was given medication and booked for an induction two days later.  We thought we had time so went home to make the first calls to close familiy to rally round for the next wave of horror and the grotesque parody of what should have been a wonderful birth of two beautiful boys.  We knew that we had to sort a few bits and pieces out before the induction so a to do list was hastily compiled, tasks delegated and people busied with useful distractions.  One of my tasks was to sort out a big sticky buzzing mess.
We had started beekeeping that year and having only started had already made mistakes and had a a hive full of wild comb that needed extracting before winter.  For some insane reason it became really, really important on the day that we found out our children were dead that we should fix the hive so that the bees would survive.  In a way it may have just been about being to exercise some control over something and save its life in a way we couldn't with our boys.
This crop of inedible honey would prove a useful distraction later.
My wife's waters broke on a trip to the shops and I got the call to drop the honey and come along to the hospital.  We had no idea it would all happen so soon and had no time to prepare mentally for what was to come.